Set includes: front and rear Caliper Covers
powder coat finish with engraved MGP
Constructed from TIG welded aerospace grade aluminum
Installs with Stainless Steel fasteners without tape, adhesive, or caliper modification
Proudly designed and manufactured in the U.S.A.
Perfectly designed to fit your Hyundai Sonata
About MGP Caliper Covers
This officially licensed set of front and rear MGP aluminum caliper covers are precision engineered to attach with a snug, factory-like fit over your existing calipers with 17' wheel minimum wheels. This set is custom 'MGP' engraved and powder coated with a sleek finish.
These caliper covers install easily with stainless steel clips and don't rely on adhesive tape.
Make sure that there is at least 3mm of clearance for these covers before installation.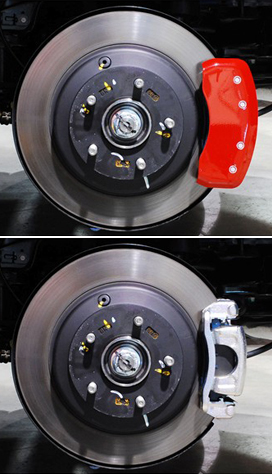 Style & Function:
MGP Caliper Covers are a customizable colored and engraved cover for your factory disc brake calipers! A popular modification, these caliper covers are far less expensive than dealership brake upgrades.
In addition to looking good, caliper covers have been shown to dissipate heat and can help to reduce brake dust!
Fitment & Design:
Each caliper cover is tested to fit your model's specific factory calipers. MGP utilizes a patented stainless steel fastening system designed for security as well as ease of maintenance. No modification or changes need to be made to your brake calipers for installation of the MGP Caliper cover. This is a 100% bolt on application and it's also easy to remove when you need to change your brake pads.
These caliper covers are designed to work with factory specification wheels. While most aftermarket wheels do provide additional clearance, it is highly recommended that you confirm spacing before placing your order. The caliper covers only require 3mm of clearance between your stock brake calipers and factory wheels so if you can slide two stacked quarters in that space, you're good to go.
All covers are manufactured from raw 6061-T6 aerospace grade aluminum and engineered to last. Made in the United States and TIG welded for years of durable service, they are then powder-coated for durability and appearance.
2015-2016 Hyundai Sonata Eco - 17' Wheel Min, w/ Electric Rear Brake
2015-2016 Hyundai Sonata Limited - 17' Wheel Min, w/ Electric Rear Brake
2015-2016 Hyundai Sonata Limited 2.0T - 17' Wheel Min, w/ Electric Rear Brake
2015-2016 Hyundai Sonata SE - 17' Wheel Min, w/ Electric Rear Brake
2015-2016 Hyundai Sonata Sport - 17' Wheel Min, w/ Electric Rear Brake
2015-2016 Hyundai Sonata Sport 2.0T - 17' Wheel Min, w/ Electric Rear Brake